8 Healthy Summertime Snacks For Moms and Kids
Now that my little guy is all done preschool for the year, and I'm home with him as well as his two-year-old sister, I'm finding that we are filling up our mornings with playdates, playground visits, and running errands. With two little ones in tow, I'm finding that I always need to have lots of snacks and drinks packed to get us through the mornings. Instead of scrambling right before we leave, I've gotten into the habit of preparing and packing up snacks the night before so that we can grab them and go. Even if you're not heading out, having snacks ready in the fridge is always nice. Here are a few of our go-to's right now:
Fruit and/or veggie kiddie "sushi":
Spread natural nut butter and a bit of honey OR cream cheese onto a whole grain tortilla and layer cut-up fruit of your choice on top. Sprinkle with cinnamon if you'd like to! Roll it up and cut width-wise for "sushi-looking" roll-ups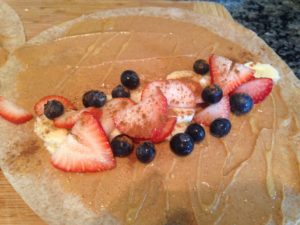 Watermelon wedges:
Simple but wonderful. Watermelon is great for a snack during the summer months because it gives kids a boost of energy and nutrition while hydrating at the same time! Kids love the sweetness of watermelon and Moms love the fact that it's nutritious and portable!
Fruit and yogurt smoothies:
I will often make fruit and yogurt smoothies in the morning and then pour them into portable cups for the kids with a few ice cubes to keep them cold. Adding yogurt and milk to fruit smoothies instead of juice will give them a protein boost which will help to keep them full and satisfied when you're out and about.
Homemade trail mix:
Homemade trail mix is great because it offers a nice balance of carbohydrates, protein, and fat which will help to energize your kids as well as keep them satisfied. It's fun to eat and non-perishable too, which means you don't have to worry about an ice pack or cooler!
Homemade muffins:
I always have a good supply of homemade muffins in the freezer to take with us on playdates and playground runs. I pack them in a snack bag when they're frozen, which keeps any fruits or veggies, cheese, or yogurt cool as well! By the time we dig in, they're usually thawed. These flourless peanut butter and banana muffins are my kids' new favorite. They are jam-packed full of nutrition and yummy too!
Muffin-tin Frittata's:
These are one of our favorite weeknight meals and I often save the leftovers for lunches or snacks. Wrap in plastic wrap and pack in a small cooler with fresh fruit for a healthy on-the-go snack. Here's the recipe!
Homemade fruit and nutcrackers:
These homemade crackers are chock-full of nutrition and so simple to make. Pair them with cheese or nut butter for a nutritious snack! If you don't feel like making crackers, you can enjoy it as a loaf of bread instead. Both are delicious!
Homemade oatmeal raisin cookies:
These healthy oatmeal raisin cookies are high in fiber and are perfect for packing in your snack bag. Pair with yogurt, a fruit smoothie, or have on your own!
Happy summer snacking!!
If you found this post helpful, I am posting nutrition articles, recipes, and tips on our Facebook page daily! Check it out!
---
---